We can help you get your licence faster at Helensvale, Southport or Burleigh Waters Queensland Transport Centres. Contact us to request a booking.
Learner drivers are eligible to take the practical driving test when:
they are 17 years or older;
they have held a learner licence for twelve months or more; and
their 100 hour logbook is approved (applicable only to learners aged 17–24 years)
After passing the hazard perception test and paying the associated fee (Note: you can complete this after your practical test until 1 July 2021 – both are required to upgrade your licence)
Chevron Driving School is renowned for training students to a very high standard and as a result we have an exceptionally high pass rate on the coast.
Our driving instructors can prepare you thoroughly for the 30-40 minute driving test so you know exactly what to expect. A pre-test assessment is a very helpful tool – it enables you to be put under test conditions by participating in a mock test with the instructor. The results are reviewed and further training can be provided if required.
We provide tips to help you pass your driving test first time round by:
fine-tuning driving skills
correcting bad habits
enhancing manoeuvre techniques, such as reverse parking & hill starts
assessing road rule knowledge; and
taking you on test routes
Our professional driving instructors can motivate and inspire you to drive to your highest potential. We'll help you overcome your nerves and focus on your strengths. You need to have good driving skills and be well-prepared – then relax and pass your driving test with confidence and ease.
Gold Coast testing centres are located at Southport, Helensvale, Currumbin Waters and Burleigh Waters.
How to book a driving test on the Gold Coast
Driving tests can be booked directly with Queensland Transport:
Phone: 13 23 90
Online: www.tmr.qld.gov.au
The easiest way to book a driving test is to simply let us do it for you. Use the form below or contact us to organise your test.
Chevron Driving School has driving tests already pre-booked with Queensland Transport – this allows our students to take advantage of an early test date.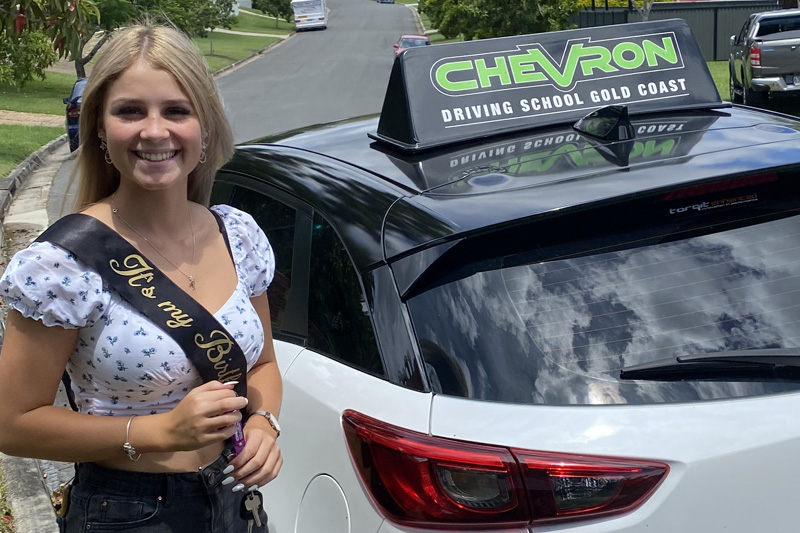 A current interstate learner licence can be used to have driving lessons in Queensland, but you will need to apply for a Queensland learner licence prior to booking your driving test.